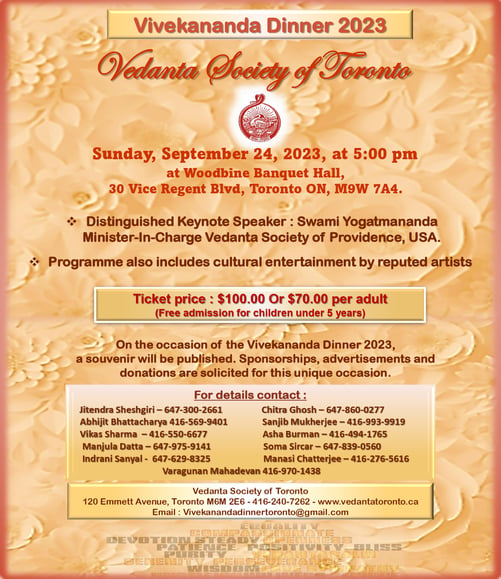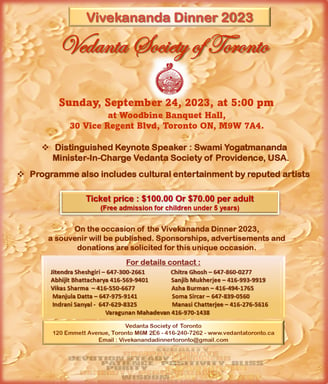 Vedanta Society of Toronto would like to invite your presence at our "Vivekananda Dinner 2023", details of venue, date and time mentioned on the flyer. Tickets are on sale, please contact with the persons mentioned on the flyer and book your tickets in advance.
To mark this special occasion, the Society is launching a souvenir magazine to pay tribute to this world teacher. We are inviting advertisements to be printed in the souvenir. Please refer our flyer for details.
Date: September 24th, 2023
Venue: Woodbine Banquet Hall, Toronto
Time: 5:00 PM
Special Event: "VIVEKANANDA DINNER"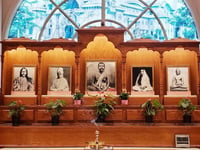 Uddhava Gita
Sep 15th, 29th - 7:30 PM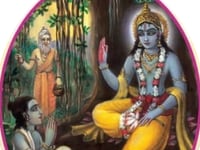 Sunday Lectures
Sundays - 11:00 AM







Gospel of Sri Ramakrishna
Friday - 7:30 PM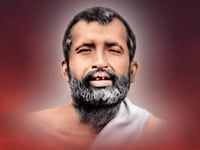 Services
Services offered by volunteering in Soup Kitchen, Food Bank, Yoga Day.


Vidyamandir
Our Cultural education initiative for the young minds and childrens of the Vedanta Society.

Newsletters

Get the latest updates on Vedanta Society and upcoming events.


Photo Gallery
Experience the moments that bind the people with the ideas of Vedanta Society.


Bookstore
Our Bookstore carries books, photos, CD's from the Ramakrishna Order.


Membership
Become a part of and participate in the different activities of Vedanta Society.
Thou sun, who hast covered the Truth with thy golden disc, do thou remove the veil, so that I may see the Truth that is within thee. I have known the Truth that is within thee, I have known what is the real meaning of thy rays and thy glory and have seen That which shines in thee; the Truth in thee I see, and That which is within thee is within me, and I am That
.